HOUND RIVER FARM KATAHDIN SHEEP
Registered Breeding Stock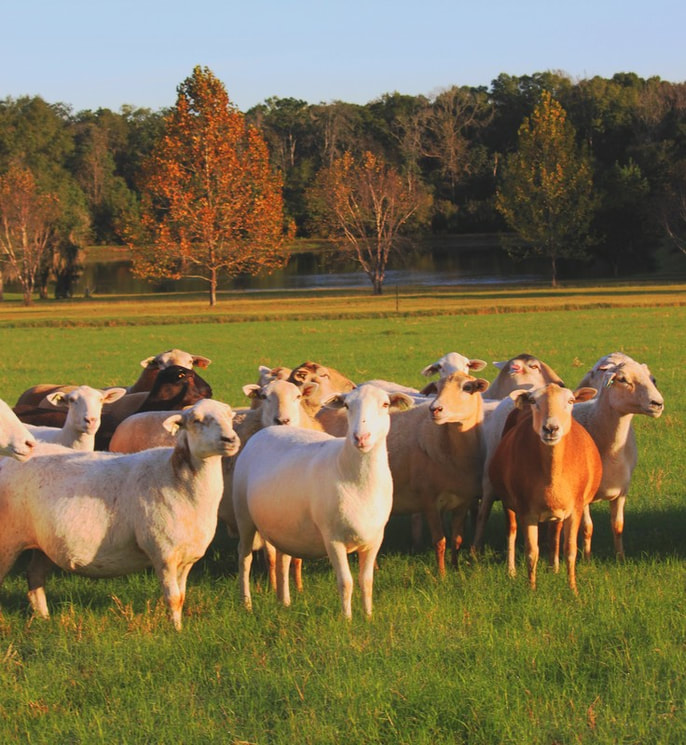 ABOUT US: We raise registered Katahdin Hair Sheep on 240 acres in the coastal plains region of South Georgia. We are approximately 30 miles north of the Georgia-Florida border with easy access from I-75. Our farm consists of Bermuda and Bahia pastures, woodlands, and wetlands. We harvest our own Bermuda hay for Winter feeding and over-seed our pastures in Fall with annual rye grass, oats, and clover for extended grazing. We are members of Katahdin Hair Sheep International, National Sheep Improvement Program, American Sheep Industry & the Eastern Alliance for Production sheep.
---
Why Katahdins?

1. Easy Care:

Katahdin's are hair sheep that naturally shed their winter coat so no shearing, crutching or tail docking required. Katahdin's are easy to handle with good flocking instincts.

2. Excellent Mothers

: Kathadin ewes possess excellent mothering ability, plenty of milk, few lambing problems, and normally give birth to twins without difficulty.

3. Parasite Resistant.

Katahdin's are more resistant to internal parasites than most other breeds of sheep. Mature Katahdin's rarely require deworming.

4. Meat Quality.

Katahdin's are an early maturing, medium framed, well-muscled sheep with fast growing lambs that adapt well to a range of climactic extremes and management styles. Katahdin meat is naturally mild, lean, nutritious, and in high demand.

5. Profitable:

Mature ewes frequently produce and raise twins or triplets and are out-of-season breeders. Katahdin sheep are low-maintenence and commingle well with cattle, allowing for increased profitablity for ranchers.

For more information about Katahdin Sheep visit the KHSI website @www.katahdins.org

Why Hound River Farm Katahdins?

1. Performance and growth on pasture.

Our sheep are on pasture year round, no feed lots!

2. Scientifically select for parasite resistance.

We participate in USDA parasite resistance research and perform on-farm parasite testing & FAMACHA scoring.

3. Balanced EBV's.

We have participated in the National Sheep Improvement Program since 2006. Estimated breeding values (EBV's) allow us to objectively select for important performance traits such as growth, milk, prolificacy, and parasite resistance.

4. Production records.

We keep meticulous health and production records on all our sheep, including weights, fecal egg counts, ewe production and lambing records.

5. Healthy sheep.

Our sheep are well cared for in a clean, humane, and protected environment. We have been a certified scrapie-free flock since 2005.

6. Top-of-the-line genetics.

We select our stud rams based on high, balanced maternal, growth and parasite resistant EBVs.

7. Contact us.

We are always available as a resource for new shepherds. Inquiries and farm visits are always welcome.

(229) 740-0017 or mcnjr53@yahoo.com